Electrification of Rural Households is a major component of the PEACE.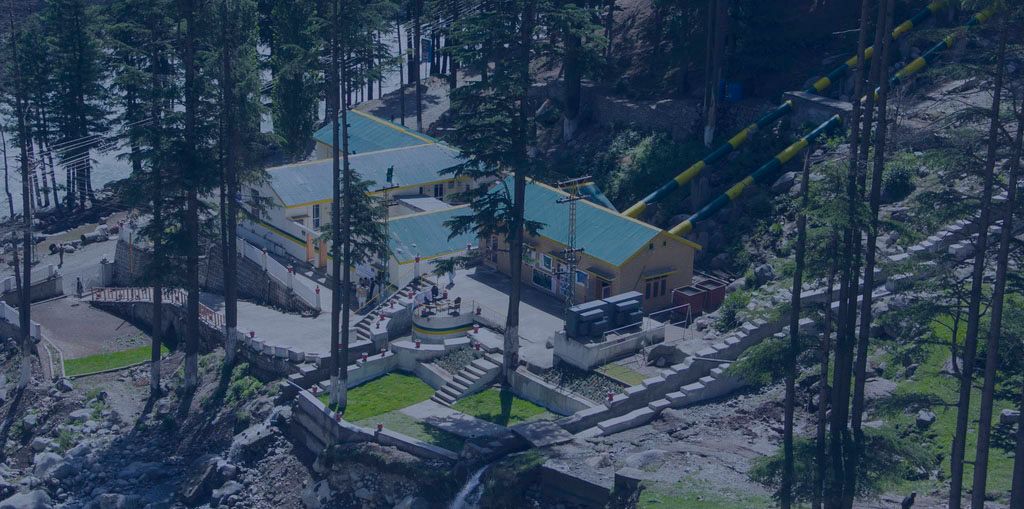 Goals and Objectives
SRSP with the financial help of EU, is undertaking developmental projects of large scale in the Militancy hit Malakand Division. Malakand Agency has not only been hit by militancy but also by natural disasters inhibiting the area's true potential. Under PEACE SRSP is making a difference in this area by undertaking different infrastructure, social and economic activities.
Owned by the communities and undertaken by SRSP, these projects consist of
Electricity Generation by using the enormous water-based electricity generation potential of the area.
Establishing a representative system of Community Organizations to take ownership of the projects.
Improvement of Community Infrastructure (CPI) and Basic Social Services.
Ensuring social and financial independence of women by providing them an equal opportunity in the process.
Generating Economic activities by identifying growth factors.
Programme Components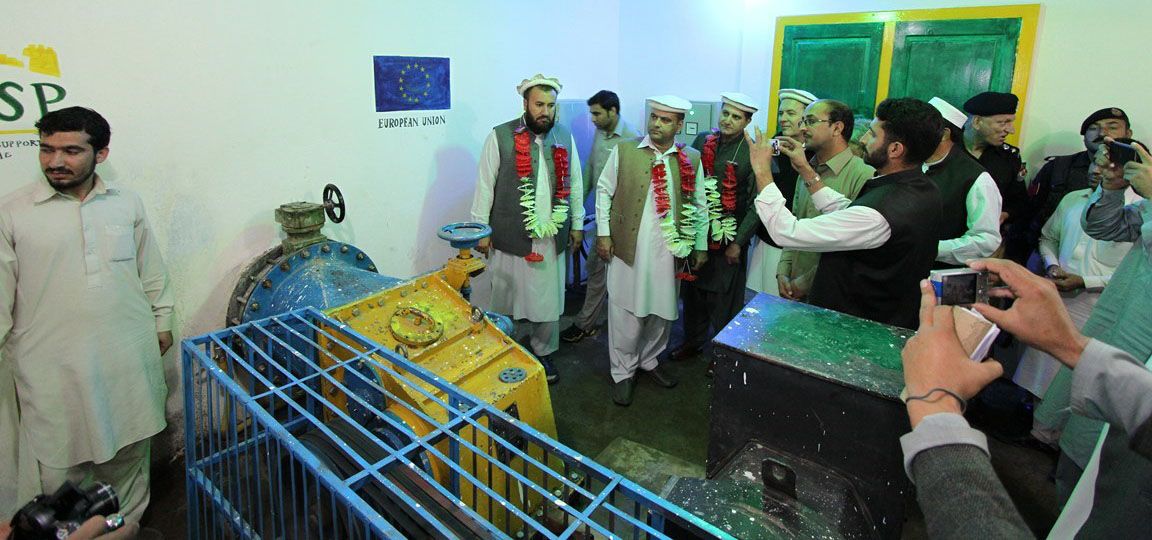 Inauguration of a Microhydel. This and many others are complete or under the process of completion providing Electricity to areas previously without electricity
SRSP has initiated/completed 99 micro hydro projects to provide clean, renewable and sustainable energy in six districts of Malakand Division. The initiated/completed projects have a potential to generate 15.9 megawatt electricity benefiting, predominantly, 42,000 household (310,900 population) off grid population. Comparing these figures with baseline, it is evident that EU-PEACE has been able to cover over 62% off grid population through these MHPs. The partnership between EU and SRSP under PEACE programme has resulted in improving existing technology and bringing in technical and technological improvements to maximize efficiency and effectiveness of these hydro projects. The completed and operational projects are managed by Rural Communities through a process of Community based operation and maintenance mechanism. This also ensures placement of an effective local mechanism to generate resources and develop technical capacity of local communities to manage these micro hydro projects in the long run.
Infographics of Microhydro Electrical Projects

| | |
| --- | --- |
| | |
Women Development

Participatory system ensures economic and social empowement of Women within the cultural context of the area.
PEACE is empowering women through capacity building, economic empowerment through development of Livelihood and entrepreneur skills and technical support.
It is imparting Literary and Numerical skills to over 6000 women in 240 adult literacy centers.
In Malakand, patriarchy, low literacy rates, limited space for public activities, lack of access to resources and services all render women the most disadvantaged segment of society. The process of community mobilization, which sets up women organizations along with men organizations, is the first step towards providing space and defining a role for women in the development process. These institutions help build women's group capacity and are an initial step in addressing their practical and strategic gender needs. PEACE is committed to promoting greater gender equality and giving women a larger share in social life. With the objective of promoting women's access to livelihoods, the action has identified a set of activities which are being undertaken with women to build their personal and group capacities to manage diversified livelihood resources related to an economy that is fast becoming monetized. One important feature of these activities is the literacy and numeracy skills training for women alongside their economic empowerment. By of end of project, 6,000 women would be provided with basic literacy and numeracy skills besides building the livelihood and entrepreneurial skills of 6,000 women. The skill trainings would be supplemented by provision of tool kits or livelihood resources, which would be extended to 6,000 poor women. The programme will also provide leadership and managerial skills to 2,000 women leaders beside producing 200 master trainers in different fields.
Infographics on Women Development
Community Build Infrastructure
The programme has taken proactive measures to improve delivery of basic social services through developing and improving small scale infrastructure schemes. A two pronged approach has been adopted; a) rehabilitation and improvement of government schemes predominantly in health and education b) Identification, implementation and maintenance of productive infrastructure schemes through an active role of local communities. Following successful meetings with provincial education and health departments resulting in signing separate MoUs with these two departments, EU-PEACE has been able to develop and rehabilitate education and health facilities identified in collaboration with relevant departments in Malakand Division. So far at least 129 government facilities have been rehabilitated and improved with a cost of PKR 95 million. In addition, 391 small scale infrastructure schemes improving community's access to basic services have been initiated /completed with a cost of 605 million.
Together, a total of 520 infrastructure schemes have been initiated/completed with public institutions and local communities have enhanced access of 173,336 (50% of total 344,000 – according to PEACE baseline) households to basic social services in all 7 districts. Following RSPs approach, operation and maintenance committees have been constituted and their capacities enhanced in maintaining these schemes.
Growth of Economic Activities
The project identifies sectors with potential to add to the economic growth activities of the area. Rice seed, black and red persimmon, onion seed, olive, walnut, pear and lemon grass have potential.
196 business interest groups formed around these trades with a membership of 2,920 farmers. 1,801 farmers trained in value chain development.
Over 1100 producers trained in enterprise development. Around 2000 Farmers provided with economic support under this programme.
Under Value chain a comprehensive approach entailing technical and managerial support for establishing and supporting potential value chains, small scale enterprises and entrepreneurs have been adopted. These approaches include
Formation of Business Interest Groups (BIGs)
Enhancing and refining business skills at local levels
Exposure visits
Orientation on markets/trends
Linkages with renowned and known business development services providers
The Programme has organized over 2900 farmers around 196 Business Interest Groups (BIGs). The Programme has trained 1,800 men and women members in value chain development. It has exposed over 1000 men and women to major markets. Their linkages with Business Development Service Providers established. As a result their products have refined and improved as per international standards.
Community Institution Building and Youth Development
Community Institutions are inclusive institutions that bring together all members of the community. SRSP builds the capacity of these organizations through community activist and leadership trainings. SRSP has formed 7,033 community based organizations with a membership of around 0.15 Million men and women.
Formation of 1,594 women community based organizations with 30,000 members is a major achievement.
These women have federated over 1004 community based organizations into 171 village based organizations. It is a definitive indicator of women's enthusiasm and zeal to take part in local development. These organizations will ensure development at households and villages level.
Over 30,000 men and women activists have trained in technical and managerial skills. Activities for improving cognitive, personal and social development are undertaken benefiting over 25000 Youth members. Their engagement is likely to continue throughout programme period as ROI at this young age is very high besides being a major contributor in developing this youth as responsible citizens