Goals and Objectives
SRSP with the financial help of EU, is undertaking developmental projects of large scale in the Militancy hit Malakand Division. Malakand Agency has not only been hit by militancy but also by natural disasters inhibiting the area's true potential. Under PEACE SRSP is making a difference in this area by undertaking different infrastructure, social and economic activities.
Owned by the communities and undertaken by SRSP, these projects consist of
Electricity Generation by using the enormous water-based electricity generation potential of the area.
Establishing a representative system of Community Organizations to take ownership of the projects.
Improvement of Community Infrastructure (CPI) and Basic Social Services.
Ensuring social and financial independence of women by providing them an equal opportunity in the process.
Generating Economic activities by identifying growth factors.
Programme Components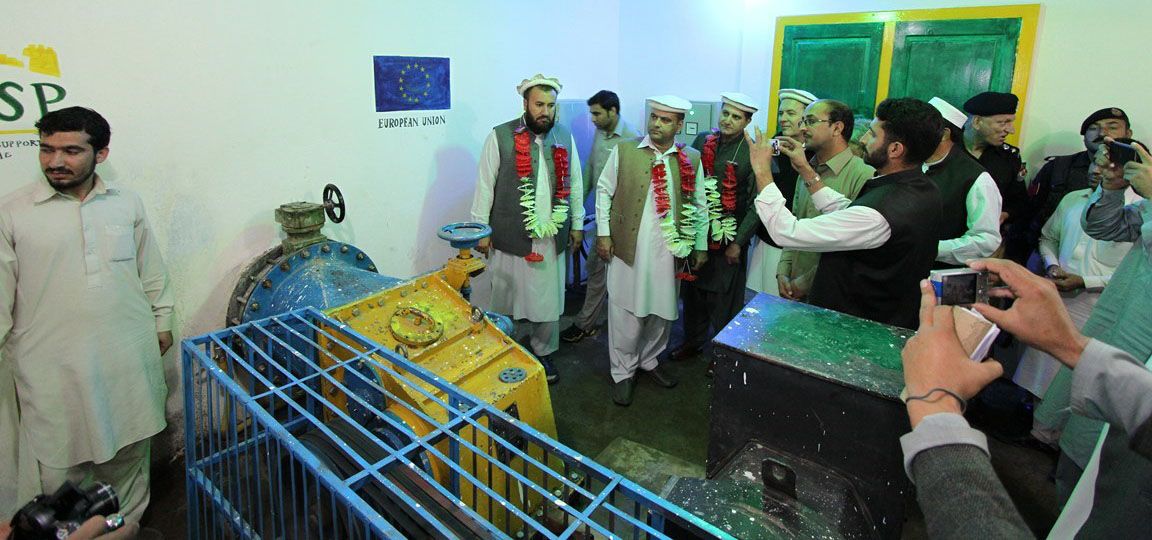 PEACE is developing renewable energy in remote locations through setting micro hydro units ranging from 50 KW and up-to 2MW.
Tapping potential of natural resources, EU-PEACE programme will set up 165 Micro Hydro projects (MHPs) with an installed capacity of 21 Megawatt. This will benefit over 75,000 households. Upon completion, the ownership, management, and operations & maintenance of these MHPs will be transferred to the communities. Because of technical nature of the MHP schemes, concerted efforts will be made to build the management and technical capacities of communities for sustainability of the MHP schemes. The planned 165 MHP units are expected to produce 21.7 MW (or 21,700 KW) electricity. Production and line losses are estimated to be 5,425 KW (25% of the total production capacity), as a result, the estimated power available for consumers is 16,275 KW. It is assumed that during the day, domestic consumers will consume less electricity and it is estimated that around 9,840 KW (60% of the net power after losses and domestic use) will be available during day timings for commercial consumers.
Electrification for rural households through micro hydro power generating systems
SRSP has initiated/completed 149 micro hydro projects to provide clean, renewable and sustainable energy in six districts of Malakand Division. The initiated/completed projects have a potential to generate 19.71 megawatt electricity benefiting, predominantly, 62,000 household (445,000 population) off grid population. Comparing these figures with baseline, it is evident that EU-PEACE has been able to cover over 90% off grid population through these MHPs. The partnership between EU and SRSP under PEACE programme has resulted in improving existing technology and bringing in technical and technological improvements to maximize efficiency and effectiveness of these hydro projects. The completed and operational projects are managed by Rural Communities through a process of Community based operation and maintenance mechanism. This also ensures placement of an effective local mechanism to generate resources and develop technical capacity of local communities to manage these micro hydro projects in the long run.
Infographics of Microhydro Electrical Projects

| | |
| --- | --- |
| | |
Women Development

Participatory system ensures economic and social empowement of Women within the cultural context of the area
Details of Capacity Building Programs (women trained in Nos.)
Besides providing basic Literary and Numerical skills to over 6000 women through establishment of 240 Adult Literacy Centres, the programme will develop managerial, entrepreneurial and livelihood skills of over 14,000 women.
It is imparting Literary and Numerical skills to over 6000 women in 240 adult literacy centers.
In Malakand, patriarchy, low literacy rates, limited space for public activities, lack of access to resources and services all render women the most disadvantaged segment of society. The process of community mobilization, which sets up women organizations along with men organizations, is the first step towards providing space and defining a role for women in the development process. These institutions help build women's group capacity and are an initial step in addressing their practical and strategic gender needs. PEACE is committed to promoting greater gender equality and giving women a larger share in social life. With the objective of promoting women's access to livelihoods, the action has identified a set of activities which are being undertaken with women to build their personal and group capacities to manage diversified livelihood resources related to an economy that is fast becoming monetized. One important feature of these activities is the literacy and numeracy skills training for women alongside their economic empowerment. By of end of project, 6,000 women would be provided with basic literacy and numeracy skills besides building the livelihood and entrepreneurial skills of 6,000 women. The skill trainings would be supplemented by provision of tool kits or livelihood resources, which would be extended to 6,000 poor women. The programme will also provide leadership and managerial skills to 2,000 women leaders beside producing 200 master trainers in different fields.
Developing Self-confidence of women & their ability to independently participate in social & economic activities
The careful approach adopted during the initial phase of the programme to initiate women activities as per local norms and culture is paying dividends now. To be relevant to local context and keep pace of activities at optimum level, EU-PEACE developed 507 women master trainers to facilitate formation of community based organizations and women interventions under the programme. With this new women work force, noticeable achievements, if not amazing, have been observed. 6,036 women have been provided with basic literacy and numeracy skills through the establishment of 240 Adult Literacy Centres (ALCs). The total enrolment in these centres was 6,096 reflecting a negligible drop-out rate of 0.09 per cent.
To engage women in economic development and become an earning hand, the programme has constituted 91 Business Interest groups covering over 1,500 women entrepreneurs' along-with identification of potential trades. In addition, women staff has also identified more than 8,000 potential/existing entrepreneurs within women community institutions. Encouragingly, 7,682 of the identified potential/existing entrepreneurs have been trained by EU-PEACE programme. On one hand basic enterprise development skills were imparted, while on other skills of existing/potential entrepreneurs have been refined. This resulted in establishing new women led businesses in Malakand division providing decent earning opportunities to women. Upon successful completion of skill development trainings, 4,789 trainees were provided with livelihood resources or tool kits to establish economically feasible and financially viable small scale businesses. To refine women leadership skills, 1,557 members were developed on technical aspects related to management of community and village based organizations. This could be seen as one of the strategic steps to initiate handing over roles and responsibilities to these women members to take charge of development in their areas.
Community Build Infrastructure
The programme has taken proactive measures to improve delivery of basic social services through developing and improving small scale infrastructure schemes. A two pronged approach has been adopted; a) rehabilitation and improvement of government schemes predominantly in health and education b) Identification, implementation and maintenance of productive infrastructure schemes through an active role of local communities. Following successful meetings with provincial education and health departments resulting in signing separate MoUs with these two departments, EU-PEACE has been able to develop and rehabilitate education and health facilities identified in collaboration with relevant departments in Malakand Division. So far at least 131 government facilities have been rehabilitated and improved with a cost of PKR 96 million. In addition, 477 small scale infrastructure schemes improving community's access to basic services have been initiated /completed with a cost of 760 million.
Together, a total of 608 infrastructure schemes have been initiated/completed with public institutions and local communities have enhanced access of 168,552 (50% of total 344,000 – according to PEACE baseline) households to basic social services in all 7 districts. Following RSPs approach, operation and maintenance committees have been constituted and their capacities enhanced in maintaining these schemes.
| | | | | | | | | |
| --- | --- | --- | --- | --- | --- | --- | --- | --- |
| Type of Project | Total | Swat | Buner | Shangla | Malakand | Chitral | Dir Upper | Dir Lower |
| Drinking Water Supply Schemes | 199 | 45 | 41 | 33 | 19 | 17 | 20 | 24 |
| Irrigation related infrastructure | 28 | 3 | 3 | - | 7 | 5 | 2 | 8 |
| Link Roads (Earthen Jeep able Tracks) | 65 | 16 | 8 | 15 | 8 | 4 | 8 | 6 |
| Rehabilitation of government services facilities | 131 | 27 | 14 | 8 | 25 | 22 | 29 | 6 |
| Floods and other disaster protection infrastructure | 17 | 3 | 1 | - | 1 | 2 | - | 10 |
| Drainage and Sanitation | 94 | 21 | 19 | 15 | 27 | 2 | 4 | 6 |
| Bridges (Suspension & Concrete) | 63 | 5 | 10 | 10 | 3 | 1 | 17 | 17 |
| Others | 11 | 1 | - | 2 | - | 3 | 4 | 1 |
| Total Initiated | 608 | 121 | 96 | 83 | 90 | 56 | 84 | 78 |
| Total Completed | 471 | 113 | 81 | 55 | 85 | 32 | 55 | 50 |
Growth of Economic Activities
PEACE is committed to ensure socio-economic development of 4,000 entrepreneurs with new business opportunities by increasing their income on a sustainable basis. A comprehensive approach entailing technical and managerial support for establishing and supporting potential value chains, small scale enterprises and entrepreneurs would be adopted. Formation of Business Interest Groups (BIGs), enhancing and refining business skills at local levels, exposure visits, orientation on markets/trends and linkages with renowned and known business development services providers are some of major achievements under this component.
306 business interest groups formed around these trades with a membership of 4,132 farmers. 3,287 farmers trained in value chain development.
Value Chain and Enterprise Development
The programme has organized over 4,132 farmers in 306 Business Interest Groups (BIGs). A total of 3,287 men and women farmers were provided with numerous trainings in value chain development. Besides Value Chain Development, the programme also provided entrepreneurial skills trainings to 3,055 members of business interest groups. Depending on nature of value chains or businesses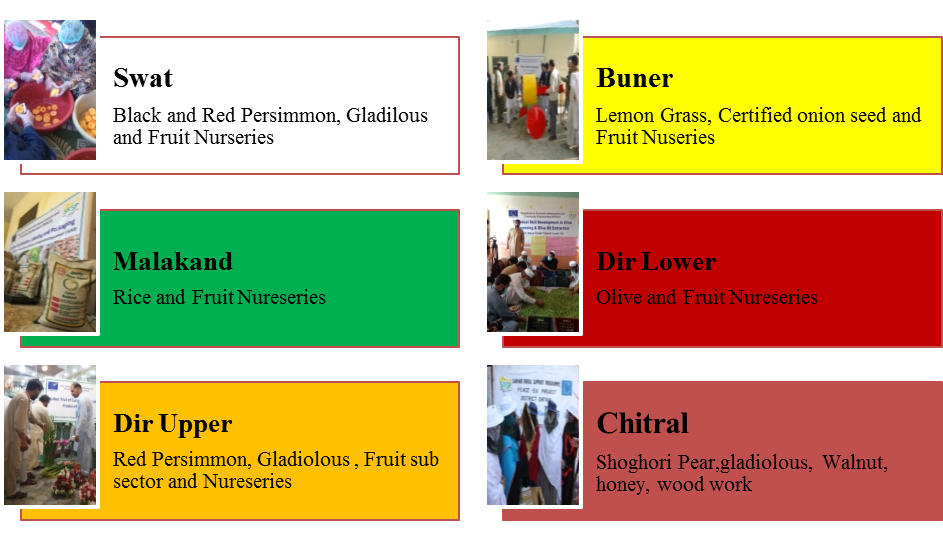 2,677 men and women were exposed to major provincial and national markets besides developing their linkages with Business Development Service Providers (BDSPs), which has improved and refined products as per national and international standards. 2,825 members of BIGs under district specific value chains were identified and provided with in kind support under the programme.
Community Institution Building and Youth Development
The crux of the RSP approach is to empower and strengthen the capacities of the people through organizing collective action to improve their social and economic environment. This collective capacity is created through the formation of broad member-based participatory organizations of the citizens. These are democratic institutions for local self-government, essential for building the capacity of the people to create, expand and improve their own communities.
Formation of 11,273 women community based organizations with 68,272 members is a major achievement.
During PEACE project, SRSP is committed to nurture and strengthen 12,000 community based organizations at various levels i.e. settlement/muhallah , village and union councils, which would be supplemented by developing a trained cadre of master triniers/resource persons besides enhancing managerial and leadership skills of over 50,000 community members and exposing them to best practices and experience sharing workshop.One of the important elements of the component is investment in youth which will have a high rate of return and youth development activities can immensely contribute in refining social, creative, cognitive and emotional skills. This investment in long run is envisaged to contribute in developing youth (30% of total population of Malakand Division) to be responsible citizen of Pakistan.